Why Brazilian Studies at KU?
The University of Kansas is proud to offer a minor in Brazilian Studies.
Our Department offers all levels of Portuguese language classes as well as Culture, Literature, History, Sociology and Luso-African courses related to the Lusophone world. Culture courses are always interdisciplinary, focusing on the study of society, and analyzing not only the countries' cultural products but also their history, race relations, ethnic makeup, and political scenario.
This page highlights just several of the reasons why the Portuguese language and a minor in Brazilian Studies can be an excellent addition to one's academic portfolio.
---
---
---
Why minor in Brazilian Studies?
The Brazilian Studies minor will allow you to gain a deeper knowledge and understanding of Brazilian culture and the Portuguese language, contributing to personal, professional, and academic growth. KU offers many opportunities to celebrate Brazilian culture in Kansas and abroad.

Our students have two opportunities to participate in study abroad programs. One is an eight-week Portuguese language and Brazilian culture summer class and the second is a two-week winter break program with a focus on race, history, and health in Brazil. These faculty-led programs take place in Salvador, Bahia.
Complete your foreign language requirement

Portuguese is spoken by over 232 million people worldwide, making it one of the top ten most spoken languages. We offer all levels of language instruction; Spanish and other romance language speakers may even participate in an accelerated course (PORT 611).

Expand your career horizons

Enhance your job prospects by learning the language of one of the world's largest emerging economies and excel in fields such as international relations, business, tourism, and education. Business majors may be particularly interested in PORT 348: Portuguese Language & Brazilian Culture for Business! (online course now available for Summer 2023)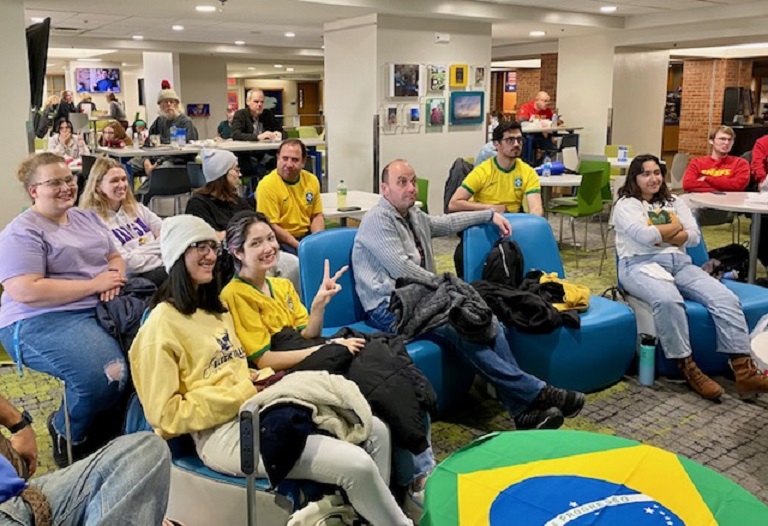 Promoting Brazilian Culture
Our faculty and students are very active in the promotion of Brazilian culture in our campus. The award-winning Brazilian Student Association (BRASA) promotes academic lectures, Brazilian carnival parties, and debates about current events. KU Capoeira Club (pictured on right) brings together KU students, faculty, and staff, as well as Lawrence community members to practice this popular global Brazilian art form.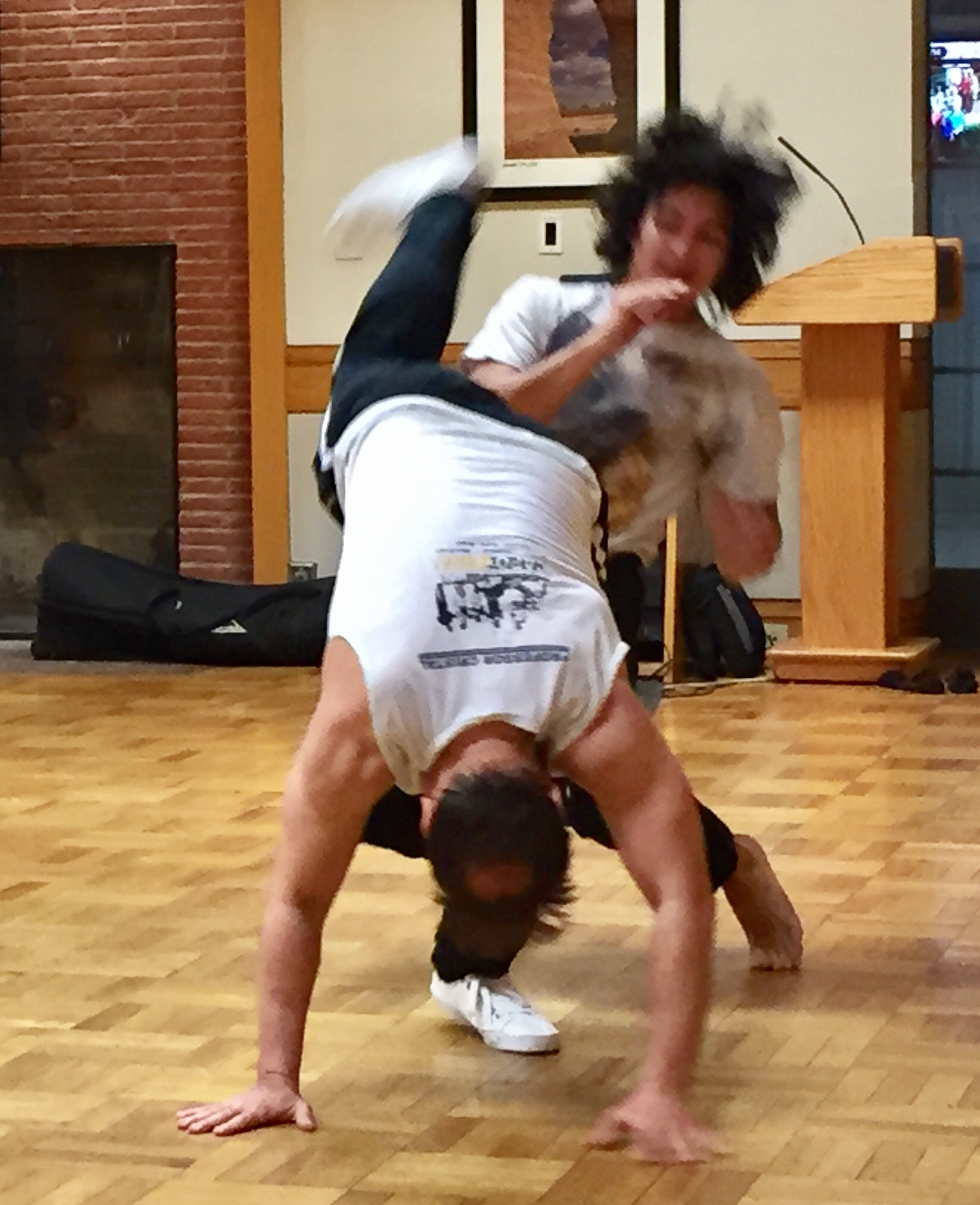 The Portuguese section of the department has traditionally held a "Brazil Week" in the spring semester, during which a keynote speaker and KU graduate students from various fields present their Brazil-related work. The department also organizes a bi-weekly Portuguese language table, where students, faculty, and Brazilian students at KU get together to practice the language in a friendly atmosphere.
PORT 348: Portuguese Language & Brazilian Culture for Business
PORT 611: Accelerated Basic Portuguese for Spanish Speakers
What our students have to say:
---
Victoria Garcia Unzueta
"I began studying Portuguese my sophomore year of college. I had been studying French for a few years, but wanted to try something new and Portuguese seemed like a good option, especially being a native Spanish speaker. My first semester of Portuguese was fully online due to the COVID-19 pandemic, which created an additional challenge, but I had a fantastic instructor who made learning engaging and fun. Thanks to his dedication to our learning, I fell in love with the language and continued my studies. After my fourth semester of studying, I got the opportunity to study abroad in Brazil and live there for two months during the summer. It was an incredible experience where I got to learn so much about the culture and the language, as well as meet many wonderful people who became my friends. Now, I continue to practice Portuguese and have many fond memories attached to the language."
---
Michelle Gray
"I began the M.A. program in the Department of Spanish and Portuguese this past fall semester. I was a little surprised and a bit nervous when my advisor suggested that I enroll in Portuguese 611, Accelerated Brazilian Portuguese for Speakers of Spanish. Since I had never studied Portuguese, I was not sure about whether the PORT 611 course designation was placing me in a higher level than I would be able to manage. But I can say now, after completing Portuguese 611 and 612, it has been a very attainable challenge and I am amazed at how much I have learned in two semesters!
Our professor makes the class informative, fun and interactive. She is enthusiastic, patient, kind, helpful, and encouraging. It has been a wonderful experience! We have learned not only the basic language components of vocabulary, grammar, pronunciation, sentence structure, and so on, but also many aspects of culture—music, literature, poetry, food.
We have opportunities to practice Portuguese conversationally not only in class, but also at the monthly language table gathering. We were recently invited to participate in a panel discussion in Portuguese with a group of Brazilian teachers of English who were visiting KU to learn more about educational systems and practices here in the US. Much of our in-class instruction and assignments have been accomplished through considering current events and social issues affecting people living in countries where Portuguese is the main language. So, instruction is all done in ways that are truly relevant to real-world language usage.
I already had an in-depth academic background in Spanish and French, so it is evident that I love learning languages. The Portuguese language has become even more important to me since my brother and his wife moved from the US to the northeastern coastal town of João Pessoa in Brazil not long ago. They are both fluent speakers of Brazilian Portuguese and I have had fun communicating with them via text and social media in my newest language. I hope to visit them in Brazil one day soon!
I feel confident that KU's Portuguese program has prepared me well for all the skills in using another language—reading, writing, speaking, listening, and cultural competence."