Hablemos has concluded for this semester and will return Fall 2022. In the meantime, please see the info below for more information about the program.
---
Hablemos is the GTA-led Spanish discussion table where Spanish students of all levels are welcomed to come and practice their language skills in an informal setting. Each week has a guiding theme intended to facilitate communicative outcomes in the target language. GRASP would like to inform that Hablemos is not restricted to KU affiliates, nor students, but to everybody who is willing to chat for a while, to practice Spanish communication, and to make new friends. For more information regarding dates and times, please check out the event flyer, or email GRASP at graspkuspan@ku.edu.
Here's what people have to say:
"Hablemos offers a great opportunity to become engaged in informal conversation with native and near-native speakers of Spanish. Every week, 2 different instructors host this event, favoring that several countries are represented through our colleagues. Mexico, Spain, Colombia, Argentina, Dominican Republic, Honduras... Do not miss the chance to get in touch with different accents and cultures; we love to share!!" – Ruth Fernández
"I enjoyed Hablemos because it gave me a chance to practice speaking Spanish with other people in an open and welcoming environment." – Kevin Velasco
(Looking for a practice table for Portuguese? Check out Bate-Papo, held at the same time!)
Previous Meetings
Hablemos is back for the Spring 2022 semester!
Sessions will be held every Friday from 4-5pm @ The Crossroads Room of the KU Union unless otherwise noted. Please see below for a description of upcoming meetings: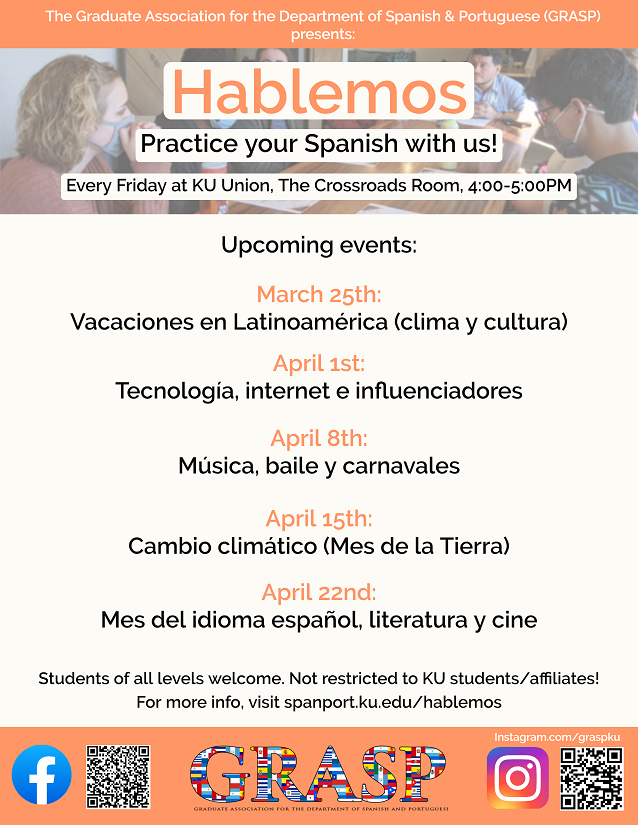 Flyer transcription: 
The Graduate Association for the Department of Spanish & Portuguese Presents: Hablemos
Practice your Spanish with us!
Every Friday at KU Union, The Crossroads Room, 4:00-5:00PM
Upcoming events:
March 25: Vacaciones en Latinoamérica (clima y cultura)

April 1: Tecnología, internet e influenciadores

April 8: Canceled

April 15: Cambio climático (Mes de la Tierra)

April 22: Mes del idioma español, literatura y cine
Students of all levels welcome. Not restricted to KU students/affiliates! For more info, visit the Hablemos web page.