Spring 2022 Course Descriptions
---
This page details some of the SPAN and PORT courses that will be available in the Spring 2022 semester. Please view the Spring 2022 Course Calendar page for a full list of classes available that semester!
 

Spanish Courses

SPAN 325: Spanish for Heritage Learners

Time: 10:00-10:50am MWF, Wescoe 4025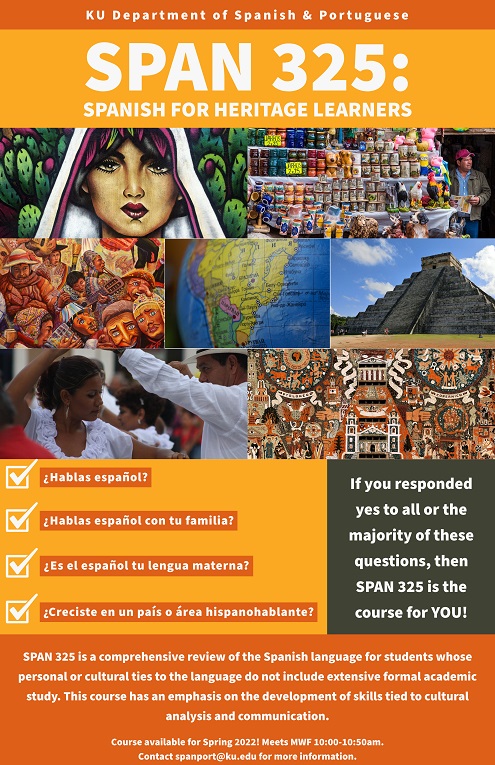 Course Description/Flyer Text:
¿Hablas español?
¿Hablas español con tu familia?
¿Es el español tu lengua materna?
¿Creciste en un país o área hispanohablante?
If you responded "yes" to all or the majority of these questions, then SPAN 325 is the course for YOU!
SPAN 325 is a comprehensive review of the Spanish language for students whose personal or cultural ties to the language do not include extensive formal academic study. This course has an emphasis on the development of skills tied to cultural analysis and communication.
Course available for Spring 2022! Meets MWF 10:00-10:50am.
---
SPAN 326: Spanish for Healthcare Workers
Professor: Jennifer Foster
Time: 9:30-10:45am TuTh, Wescoe 4025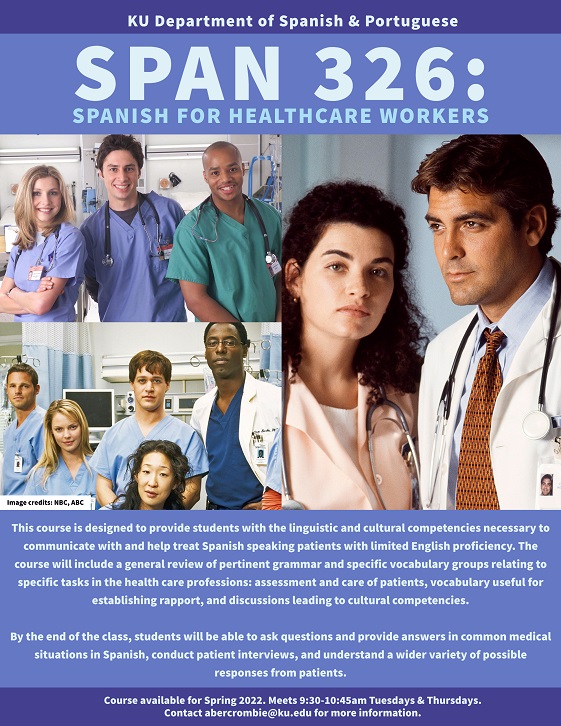 Course Description/Flyer Text: This course is designed to provide students with the linguistic and cultural competencies necessary to communicate with and help treat Spanish speaking patients with limited English proficiency. The course will include a general review of pertinent grammar and specific vocabulary groups relating to specific tasks in the health care professions: assessment and care of patients, vocabulary useful for establishing rapport, and discussions leading to cultural competencies.
By the end of the class, students will be able to ask questions and provide answers in common medical situations in Spanish, conduct patient interviews, and understand a wider variety of possible responses from patients.
Course available for Spring 2022. Meets 9:30-10:45am Tuesdays & Thursdays. Contact abercrombie@ku.edu for more information.
---
SPAN 440: Iberian and Latin American Science-Fiction Studies
Instructor: Miguel Angel Albujar-Escuredo, Ph.D.
Time: 11:00am-12:15pm, MW, Wescoe 4025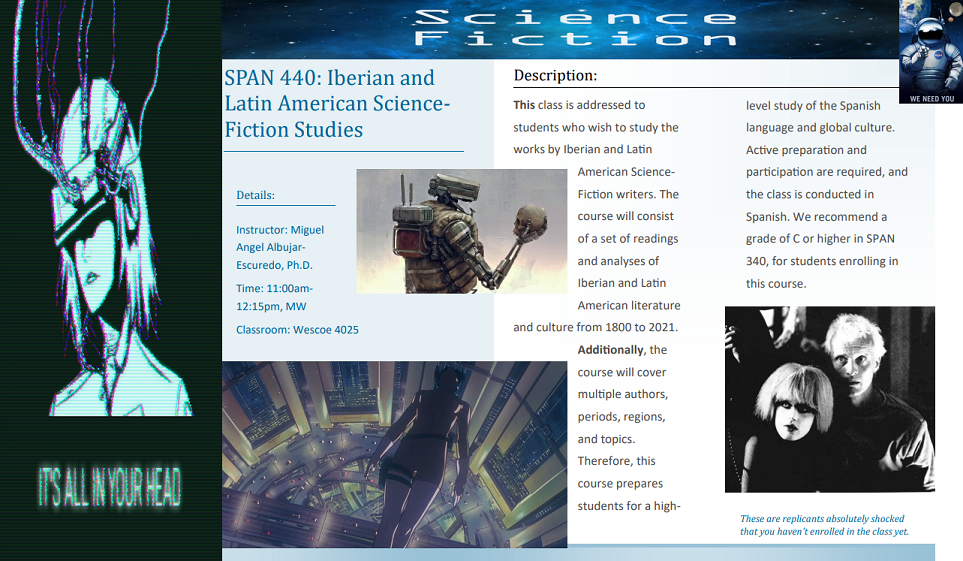 Course Description/Flyer Text: This class is addressed to students who wish to study the works by Iberian and Latin American Science-Fiction writers. The course will consist of a set of readings and analyses of Iberian and Latin American literature and culture from 1800 to 2021.
Additionally, the course will cover multiple authors, periods, regions, and topics. Therefore, this course prepares students for a high-level study of the Spanish language and global culture. Active preparation and participation are required, and the class is conducted in Spanish. We recommend a grade of C or higher in SPAN 340, for students enrolling in this course.
---
SPAN 442: Special Topics in Latin American Literature and Culture: Discourses of Coloniality, 1492-2021
Professor: Robert Bayliss
Time: 12:30-1:45pm MW, Wescoe 4034
This course will examine the enduring legacy of Spain's colonization of the Americas, with an emphasis on the critical voices of the colonized. We will study both the Eurocentric discourses developed to define and subjugate the indigenous "other" and the discourses of colonized subjects whose experience of conquest and colonization echo contemporary concerns surrounding the legacy of that experience. Modern critiques of capitalism, geopolitics, and the inherited structures of race and gender emanating from Latin America will be read in dialogue with both Colonial-era and contemporary Spanish voices in order to see the enduring ties between contemporary transatlantic Hispanic relations and the history of colonization.
---
SPAN 450: Medieval Spanish Studies – The Worlds of Alfonso X, el Sabio
Professor: Isidro J. Rivera, ijrivera@ku.edu
Time: Tuesday-Thursday, 1:00-2:15 pm, 2636 Wescoe Hall

This course will focus on the literary and cultural production of the court of Alfonso X, el Sabio (1221- 1284). The course will consider how Alfonso X fostered interactions among Christians, Muslims, and Jews in the Iberian peninsula during the thirteenth century. It will examine this interaction through the literature, music, art, legal documents, and other cultural objects produced by Alfonso and his court in order to understand the richness and complexity of multicultural medieval Iberia. Readings and other course resources will help students to explore Alfonso's role as promoter of cultural and literary activity. This class will provide students with the opportunity to enrich their critical understanding of the cultural dynamics of medieval Iberia and to develop critical skills for analyzing medieval literary texts within the context of cultural interactions. This course may be used to fulfill the 400-level peninsular Spanish literature requirement for the Minor or Major. Prerequisite: SPAN 340; recommended: SPAN 424.
Reading list:
Alfonso X, Cantigas
Alfonso X, Siete Partidas
Alfonso X, Libro de los juegos
Alfonso X, Estoria de España
Anon., Auto de los Reyes Magos 
Anon., Sendebar
Doubleday, The Wise King
---
SPAN 451: Stuck in the Middle with You: Culture, Faith and Space in the Early Modern Mediterranean
Professor: Sean Gullickson
Time: 9:30-10:45am TuTh, Strong Hall 307
It is fitting that a sea whose name includes the Latin for "middle" (medius) has played such a central role in world history. The Mediterranean Sea is a vast shared space, a crossroads that connects East and West. African, Middle Eastern and European civilizations have dotted its shores for millennia. Jews, Christians and Muslims have travelled its waters, sharing meals, exchanging goods and exchanging blows in massive sea battles and pirate raids. This semester we will chart our own course through this sea using a variety of primary documents, literary texts and artworks to examine the complex interplays of culture, faith and space in the Mediterranean. From piracy to witchcraft, martyrdom to conversion, travel chronicles to forged gospels, the course will have something for everyone. Our overall focus will be on the early modern era, the days of the Spanish and Ottoman empires, but we will also dedicate time to the ancient and medieval world as well as to the modern Mediterranean.
---
SPAN 570: Studies in Hispanic Linguistics: Social & Dialectal Variation (.pdf)
Professor: Antônio R.M. Simões
Class Time: TTh 2:30-3:45PM
Office Hours: TTh 4:00PM-5:30PM, or by appointment
Phones: 785-864-0285, 785-864-3851
Email:asimoes@ku.edu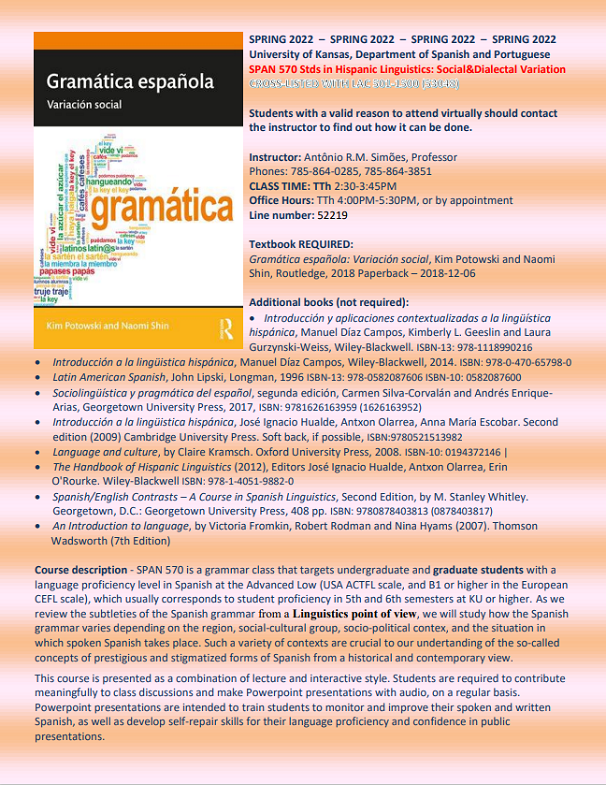 Course description/Flyer Text: SPAN 570 (.pdf) is a grammar class that targets undergraduate and graduate students with a language proficiency level in Spanish at the Advanced Low (USA ACTFL scale, and B1 or higher in the European CEFL scale), which usually corresponds to student proficiency in 5th and 6th semesters at KU or higher. As we review the subtleties of the Spanish grammar from a Linguistics point of view, we will study how the Spanish grammar varies depending on the region, social-cultural group, socio-political context, and the situation in which spoken Spanish takes place. Such a variety of contexts are crucial to our understanding of the so-called concepts of prestigious and stigmatized forms of Spanish from a historical and contemporary view.
This course is presented as a combination of lecture and interactive style. Students are required to contribute meaningfully to class discussions and make Powerpoint presentations with audio, on a regular basis. Powerpoint presentations are intended to train students to monitor and improve their spoken and written Spanish, as well as develop self-repair skills for their language proficiency and confidence in public presentations.
Textbook REQUIRED:Gramática española: Variación social, Kim Potowski and Naomi Shin, Routledge, 2018 Paperback – 2018-12-06
Additional books (not required):
Introducción y aplicaciones contextualizadas a la lingüística hispánica, Manuel Díaz Campos, Kimberly L. Geeslin and Laura Gurzynski-Weiss, Wiley-Blackwell. ISBN-13: 978-1118990216
Introducción a la lingüistica hispánica, Manuel Díaz Campos, Wiley-Blackwell, 2014. ISBN: 978-0-470-65798-0
Latin American Spanish, John Lipski, Longman, 1996 ISBN-13: 978-0582087606 ISBN-10: 0582087600
Sociolingüística y pragmática del español, segunda edición, Carmen Silva-Corvalán and Andrés Enrique Arias, Georgetown University Press, 2017, ISBN: 9781626163959 (1626163952)
Introducción a la lingüistica hispánica, José Ignacio Hualde, Antxon Olarrea, Anna María Escobar. Second edition (2009) Cambridge University Press. Soft back, if possible, ISBN:9780521513982
Language and culture, by Claire Kramsch. Oxford University Press, 2008. ISBN-10: 0194372146 
The Handbook of Hispanic Linguistics (2012), Editors José Ignacio Hualde, Antxon Olarrea, Erin O'Rourke. Wiley-Blackwell ISBN: 978-1-4051-9882-0
Spanish/English Contrasts – A Course in Spanish Linguistics, Second Edition, by M. Stanley Whitley. Georgetown, D.C.: Georgetown University Press, 408 pp. ISBN: 9780878403813 (0878403817)
An Introduction to language, by Victoria Fromkin, Robert Rodman and Nina Hyams (2007). Thomson Wadsworth (7th Edition)
Crosslisted with LAC 501-1500 (53048). Students with a valid reason to attend virtually should contact the instructor to find out how it can be done.
---
SPAN 785: Special Topics in Latin American Literature - Bandits: Outlaws in the Americas
Professor: Rafael Acosta
Time: 4:00-7:00pm Wednesdays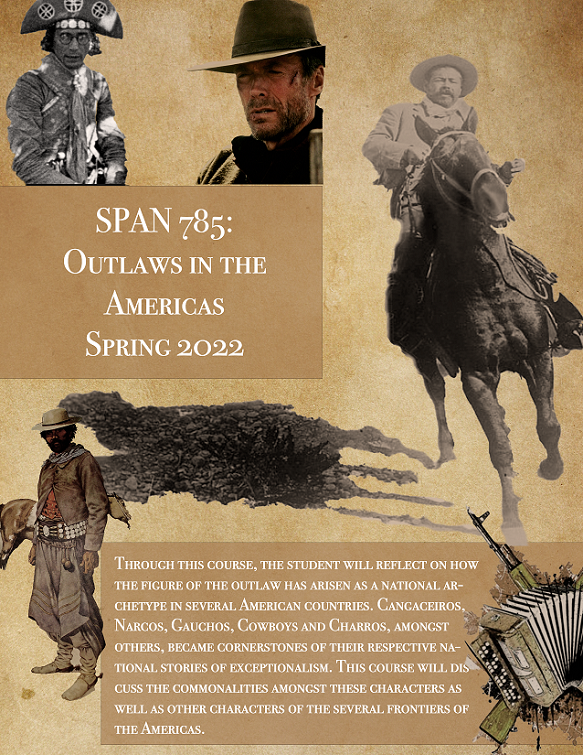 Course Description/Flyer Text: Through this course, the student will reflect on how the figure of the outlaw has arisen as a national archetype in several American countries. Cangaceiros, Narcos, Gauchos, Cowboys and Charros, amongst others, became cornerstones of their respective national stories of exceptionalism. This course will discuss the commonalities amongst these characters as well as other characters of the several frontiers of the Americas.
Amongst others, we will ask questions such as What do figures like McCarthy's Judge Holden, Hernandez's Martín Fierro, Glauber Rocha's Antonio das Mortes or Franco's Rosario Tijeras have in common? How does gender inform the performance of banditry? What happens when we move the American cowboy out of the narrative of American Exceptionalism and regeneration through violence? What happens to the Argentine gaucho when we take him out of the narrative of civilization and barbarism? What else can we learn about these figures from discourses that are not canonical in their analysis, such as gender issues? What current figures might be their functional or ideological descendants in the modern day Americas?
---
SPAN 795: Literary Theory and Criticism
Professor: Jonathan Mayhew
Time: 4:30-7:30pm Tuesdays
Course Description: Note: a literary theory course is required for the PhD program. This is the course that is typically used to fulfill this requirement.
This course will be based on the "primary texts" of theory, not introductory guidebooks or applications. The course will begin with an introduction to hermeneutics, or the nature of interpretation itself. We will continue with theories of language, questions of validity, feminism, Marxism, translation theory, and contemporary Latin American literary theory. On two days, students will choose the readings in order to allow for discussions that are relevant to student interests.
A typical day in the course will consist of a student presentation, a discussion of two or three theoretical readings, a "mini-lecture" by the professor, and perhaps a group activity.
The first paper will be a critique of a theoretical book or article. The second paper will be devoted to the examination of a critical problem, like the nature of the canon. The final project will be an extended treatment of one of the first two papers.
---
SPAN 922: Space in Early Modern and Postmodern Hispanic Genre Fiction
Professor: Patricia Manning
Time: 4:00-7:00pm Mondays
The booming urban spaces of Spain's empire figure prominently in early modern fiction, as in Bernardo de Balbuena's Grandeza mexicana.  Urban spaces take on such prominence in the novela cortesana that, as Nieves Romero-Díaz argues, certain cities become affiliated with particular characteristics; we will examine this argument in María de Zayas's fiction.  We also will consider the presentation of Madrid in Luis Vélez de Guevara's El diablo cojuelo. 
In addition to fiction, we also will study maps, including Pedro Teixeira's plan of Madrid. 
Place also plays an important role in postmodern genre fiction.  Envisioning the urban space of other eras is a vital element in both historical fiction, such as Arturo and Carlota Pérez-Reverte's El capitán Alatriste and science fiction, such as Netflix's Siempre bruja.
The global (and globalized) metropolises of Barcelona, Lima and Buenos Aires play roles in detective fiction set in these cities: Alicia Gímenez Bartlett's Ritos de muerte, Alonso Cueto's La segunda amante del rey and Manuel Vázquez Montalbán's Quinteto de Buenos Aires.
Theoretical readings include Henri Lefebvre and Michel Foucault among others. Students will add to this corpus through presentations and selections of additional readings for days in which they lead class discussion. 
Those who sign up for the course prior to the book order deadline will be able to help select other texts for the course, such as:
Sandra Aza, Libelo de sangre
Laura Esquivel, La Malinche
Alberto Fuguet, Mala onda
Eduardo Mendoza, La verdad sobre el caso Savolta
Portuguese Courses
PORT 300: Brazilian Cultures
Professor: Luciano Tosta
Time: 1:00-2:15pm TuTh, Wescoe 4076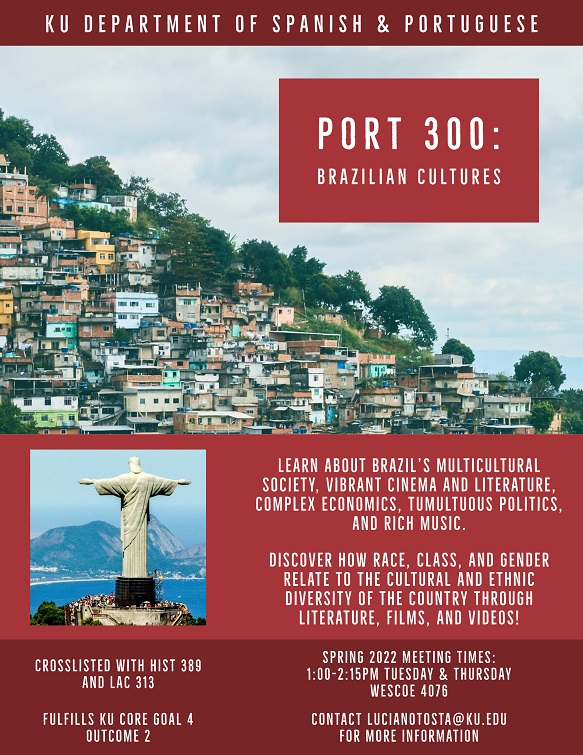 Course Description/Flyer Text: Learn about Brazil's multicultural society, vibrant cinema and literature, complex economics, tumultuous politics, and rich music.
Discover how race, class, and gender relate to the cultural and ethnic diversity of the country through literature, films, and videos!
Course crosslisted with HIST 389 and LAC 313.
Fulfills KU Core Goal 4 Outcome 2!
Spring meeting times: 1:00-2:15pm Tuesdays & Thursdays @ Wescoe 4076.
Contact lucianotosta@ku.edu for more information.