Seungjoo Lee
---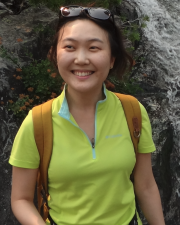 Ph.D. Student
Contemporary Latin America
Chancellor Fellow
College of Liberal Arts & Sciences, Spanish & Portuguese
Contact Info
Wescoe Hall 2601
Lawrence
Lawrence, KS
---
Biography
—
Seungjoo Lee is currently a Ph.D. candidate in the department of Spanish and Portuguese at the University of Kansas. She received a B.A. in English literature and an M.A. in Hispanic literature from Seoul National University in South Korea. For a year, during her M.A. she studied at the Autonomous University of Madrid (la Universidad Autónoma de Madrid), where she became interested in political aspects of first-person narration and detective plots in contemporary Latin American literature. Her current research explores the cinematic representation of economic crises in Argentine, Greek, and South Korean films. She sees film industries as a transnational and capital-intensive workplace that reflects the colonial legacy. Due to this legacy, which dates back to the 15th century in Latin America, she argues, cultural products from the workplace of 20th-and 21st-century motion pictures show similar characteristics of 19th-century novels and novellas.
Research
—
Research interests:
20th-and 21st-Century Latin American Literature and Cinema
Transatlantic and Transpacific Discourses Related to Modernity and Post-Colonialism
Formation of National and Ethnic Identities
Border Studies
Theories on 'Eco'nomy and 'Eco'logy
Global Human Migration
Capitalism and War during the 20th and 21st Centuries
Narratives by Clarice Lispector, María Luisa Puga, Lucrecía Martel, and María Zambrano
Selected Publications
—
Translations (Spanish - Korean)
Cifuentes Guerra, María Ángela. "José Carlos Mariátegui: el mensaje de Oriente. Aproximaciones al caso de India." Global World Literature. 10 (2017): 357-396.    
Piglia, Ricardo. "Las actas del juicio." Global World Literature. 4 (2014): 82-96.
Awards & Honors
—
2023: Graduate Scholarly Development Fund, University of Kansas
2022: Robert A. Granberg Award for Teaching Excellence, Spanish and Portuguese Department, University of Kansas
2021: Hall Center Supplementary Research Funding, University of Kansas
2020: Exter Marguerite Memorial Prize in Foreign Languages, Spanish and Portuguese Department, University of Kansas
2019: Hall Center International Enhancement Grant, University of Kansas
2017: Graduate Scholarly Presentation Travel Fund, University of Kansas
2016-2021: Chancellor's Doctoral Fellowship, University of Kansas
2012, 2014-2016: Brain Korea 21 Plus Fellowship, Korean Government