Rafael Acosta
---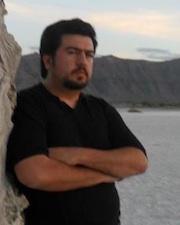 College of Liberal Arts & Sciences, Spanish & Portuguese
Biography
—
Rafael Acosta's research projects involve the political and legal matrices of affect that develop around culturally relevant stories and narrative figures. That is, how stories convince us to do (or not to do) things in the political arena. His research interests focus on a notion of Comparative Literature that uses Mexico and the United States (instead of the France-England-Germany axis) as the nexus of meaning that allows for interpretation, trying to develop other versions of cosmopolitanism by changing the locus of enunciation.
His first book, Druglords, Bandits, Cowboys: Violent Myths of the Mexico-U.S. Frontier (Notre Dame, 2021), reflects on how narratives of the frontier provide a political laboratory for the political production of the center, and how these narratives are used to further political goals. He analyzes narrative in literary, cinematic and musical form, referring to works by Américo Paredes, Luis G. Inclán, Clint Eastwood, Rolando Hinojosa, Yuri Herrera, and Cormac McCarthy. Some of his articles have been published in Latin American Research Review, Revista de Estudios Hispánicos, and Comparative Literature amongst other journals.
Currently he is leading two research projects: The first one, Immortal stories: Persistence of the epic in contemporary fiction, studies transhistorical relationships between classic and medieval epics and contemporary ones. Recent narrative forms, such as Gerardo Ortiz's corridos, Tarantino's Django Unchained and Edward James Olmos's American Me relate to epic forms. My book claims that an understanding of affective assemblages and transhistorical literary relationships through the lens of the conditions of their material production, rather than via relations of influence, makes it easier to explain this resemblance. The first chapter studies how economies of honor and glory trump pecuniary economies in Homer's Illiad and Gerardo Ortiz's Narcocorridos through the breakdown of violence monopolies by the state, which makes money less powerful than other relationships that can control violence. I have also completed a second chapter that studies Edward James Olmos's American Me and Virgil's Aeneid. The chapter follows Adam Parry's vision of the Roman poem in order to show how Virgil sustains and undermines Augustan ideals. Based on the recognition that both Virgil and Olmos were born into a formally equal but de facto marginalized population in their nations, I claim that they both challenge this disenfranchisement through upholding pietas, core duties upheld in mainstream discourse. The third and final chapter examines how Django Unchained and the Alliterative Morte Arthure project their relationship with violence and savagery unto a distant wilderness, while the core of the undoing of their ideals lies much closer to home, represented by slavery and Mordred. An article in this project has appeared in Revista de Estudios Hispánicos, and the book manuscript is in progress.
The second project, Corridos are weapons, Reforming Masculinity discourses from within popular culture, explores the pathways in which a critique of violent masculine supremacy discourses in Mexican culture can be constructed from within the vocabulary and imaginary of popular culture. In order to do so, it analyzes narratives from musical performers like Los Tigres del Norte, Los Cadetes de Linares, Julián Garza, Los Dos Carnales among others, as well as visual materials like Narcos and Salvando al Soldado Pérez, and books like Pedro Páramo and Porque parece mentira la verdad nunca se sabe. This book continues the project of studying political discourses that produce violence from affective frameworks in order to better understand how to combat them and reform culture. This book manuscrtipt is in progress.
Besides these book projects, he has a sustained interest in comparing the different approaches to the challenges of post-colonialism, bringing together thought from Mexico's Mestizaje tradition, Brazil's Anthropofagia, African Post-colonial traditions along the lines of Ngugi wa' Thiong'o, India's Subaltern Studies and the Indigenous Critique that Graeber brought forward in his study of the Iroquois. He has published an article related to this project in Comparative Literature, and a reader volume, coedited with Luciano Tosta, Mestizaje/Mestissagem, is forthcoming with UANL press. This volumecorrelates some of the essential texts of the Mexican and Brazillian traditions of Mestizaje.
He is also collaborating with the Instituto Tecnológico y de Estudios Superiores de Monterrey on a Digital Humanities project that tracks consumption of literature in Mexico, in order to create a database that can be used for further research.
Selected Publications
—
Acosta Morales, Rafael. "Splitting the Colonizer." Comparative Literature, Jan. 2019.
Acosta Morales, Rafael. "Ideología y Utopías: Bandidaje, Capital y Consumo En México." Latin American Research Review, vol. 52, no. 3, University of Pittsburgh, 2017, pp. 1–13, https://doi.org/10.25222/larr.104.
Acosta Morales, Rafael. "Drug Trafficking, the Lettered City and the Risks of Law." Modern Mexican Culture : Critical Foundations, University of Arizona Press, 2017.
Acosta, Rafael. "With No Safety Net: Public Security in the Age of Neoliberal Reforms." Georgetown Journal of International Affairs, Nov. 2016.
Acosta Morales, Rafael. "La Narcocultura y La Legitimación de Los Grupos Armados Ilegales." Senderos de Violencia: Latinoamérica y Su Literatura Armada, UNC UP, 2016.
Acosta Morales, Rafael. "El Estado y El Caudillo: Reconfiguración de La Legalidad En Trabajos Del Reino, de Yuri Herrera." Latin American Perspectives, vol. 41, no. 2, Sage Journals, Mar. 2014.
Acosta Morales, Rafael. "El Cartel Se Funda En Los Huecos Del Estado." Posdata, no. 9, Sept. 2011.
Acosta Morales, Rafael. "Operación Bolívar y La Conspiración En La Hiperabundancia de La Información." Revista Iberoamericana, vol. LXXVII, no. 234, 2011, pp. 149–62.
Acosta Morales, Rafael. FRONTIER AFFECTS: DRUG LORDS, COWBOYS, AND DESPERADOES IN U.S.-MEXICO BORDER NARRATIVES. University of Notre Dame Press.
Selected Presentations
—
Morales, R. (10/17/2017). Even our police state is outsourced overseas: The Merida Initiative. Chicana Symposium. Topeka KS
Acosta, R. (9/29/2017). Pedro Paramo, la ironía y el afecto del fascismo. "Transparencies: Mexican Cultural Production through the Twenty-First Century". Toronto, Ontario