Miguel A. Albujar Escuredo
---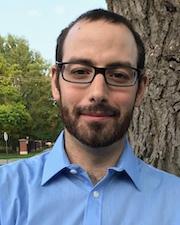 College of Liberal Arts & Sciences
Contact Info
Wescoe Hall 2631
Lawrence
Lawrence, KS 66045
---
Biography
—
Miguel Ángel Albújar-Escuredo is originally from Barcelona, Spain. He has degrees in Journalism (B.A. from University Ramon Llull), Literature (B.A. from University of Barcelona and M.A. from University of Salamanca), and Education (M.S. from University of Barcelona) and graduated from the University Nebraska-Lincoln with a Ph.D. in Spanish Literature. Presently, he is carrying on research in the field of Science-Fiction. He has published several articles in journals such as Alambique: Revista Académica de Ciencia Ficción y Fantasía, Anales Cervantinos, and Journal of Franco-Iberian Studies amongst others. In addition, he has written for newspapers (Avui) and radio stations (Rac1, OndaCero, etc.), cultural magazines such as Culturamas and international relations publications such as Observatorio de Actualidad Mundial Blanquerna. He has volunteered for NET (PBS & NPR Stations) providing translation services and for Lincoln Literacy helping to migrate all the educational activities to online learning management systems. Miguel Ángel currently holds the positions of Editor and Translator for Fantraginers, online site of Science-Fiction in Catalan.
Research
—
Research interests:
Ecology
Inequality
Fiction
Teaching
—
Science-Fiction
Literature
Languages
Selected Publications
—
ARTICLES
"La representación de la muerte en Angostade Héctor Abad Faciolince" (To be published by December 2020 at Jollas, Journal of Latino/Latin American Studies).
"El Jardí dels set crepuscles, la intelectualización de la ficción especulativa en la literatura catalana de los años ochenta." Alambique: Revista Académica de Ciencia Ficción y Fantasía. Vol: 6, Iss. 2, Article 2, 2019.
"De la importancia de la "prótesis cultural" en el episodio LXXIIII de la segunda parte de Don Quijote de la Mancha, en el cual el protagonista fallece." To be published at Anales Cervantinos.
"Dissecting El Aleph: the synecdoche as an archetypical recurrence"To be published at Milli Mála.
"L'Écriture ou la vie: pharmakosde la esfera públicade Jorge Semprún." Journal of Franco-Iberian Studies, vol.12, 2018, pp.86-108.
"La importancia del fingimiento teatral y sus consecuencias en el Quijotede Cervantes." Cervantes, Shakespeare Y La Edad De Oro De La Escena. Edited byRieraJ.Braga et al. Madrid: Fundación Universitaria Española, 2018.
JOURNAL REVIEWS
"Caja de Fractales (2017), una novelita de ficción especulativa o cómo vivir en el Antropoceno." Hélice, vol. otoño-invierno, 2019.
Selected Presentations
—
·     "Un arquetipo, tres cuentos en Borges".Mid-America Conference on Hispanic Literature, University of Kansas. Lawrence, Kansas, November 3-5, 2016.
·     "El fingimiento como estrategia de supervivencia en El ingenioso hidalgo don Quijote de la Mancha". Congreso internacional Cervantes, Shakespeare y la edad de oro de la escena. Instituto del Teatro de Madrid (Facultad de Filología, UCM), Universidad Internacional de La Rioja (UNIR), Real Escuela Superior de Arte Dramático (RESAD),Compañía Nacional de Teatro Clásico (CNTC). October 17-21, 2016.
·     "La dificultad pragmática de legislar derechos naturales en el Nuevo Mundo". First Congress of Lalisa, Latin American, Latino, & Iberian Studies of the Pacific Northwest, New Temporal Regimes in Literature, History, and the Social Sciences, Reed College, Portland, Oregon, April 8-9, 2016.
·     "La locura como patrón narrativo en El jardí del set crepusclesde Miguel de Palol". XVI Col.loqui Internacional de Llengua i Literatura Catalanes (AILCC), Universidad de Salamanca, Salamanca, July 1-6, 2012.
Awards & Honors
—
2015-2017 Rogers Conference and Research Support Fellowship at the Department of Modern Languages and Literatures (DMLL), University Nebraska Lincoln.
2017 George Hippee Rogers Merit Fellowships at DMLL, University Nebraska Lincoln. 
2014-2016 Othmer Fellowship for Exceptional Scholars, University Nebraska Lincoln.