Lorena V. Mosquera
---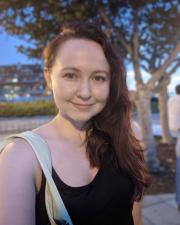 College of Liberal Arts & Sciences, Spanish & Portuguese
Biography
—
Lorena V. Mosquera is a Ph.D. student in the department of Spanish and Portuguese. She received a M.A. in Hispanic Studies from the University of Nevada, Las Vegas and a B.A. in Spanish and Literature from the University of Cauca. She also completed graduate courses in Literature and Culture at Caro & Cuervo institute. Her research interests are contemporary Latin American culture and literature, focused on historic and collective memory, violence, and identity representations.  
Research
—
Research interests:
Collective memory, post memory, and identity
Cultural representations of violence and conflict between 20th and 21st centuries in Latin America
Urban and social configuration
Dystopia and History in urban spaces.
Teaching
—
Teaching interests:
Latin American literature and culture
Cultural representations of conflict
Social movements in Latin American history
Language and social constructions
Awards & Honors
—
Alva V. Ebersole Award for Outstanding Scholarly Paper, University of Kansas - 2023