Scott Raines
---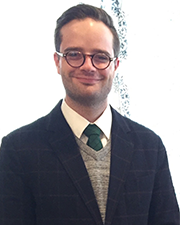 College of Liberal Arts & Sciences, Spanish & Portuguese
Contact Info
Wescoe 2032
Lawrence
Lawrence, KS
---
Biography
—
Scott Raines is from Lehi, Utah. He is a Ph.D. student in the Department of Spanish & Portuguese. Scott graduated from Brigham Young University with a B.A. in Spanish (minors in Portuguese and Global Business/Literacy) in 2017 and with a M.A. in Hispanic Literatures in 2019. He wrote his thesis on Don Quixote under the direction of Dr. John R. Rosenberg. 
Research
—
Research interests:
Early Modern Spain and Portugal
Baroque Painting and Art History
Latin American Neo-Baroque
Music and Literature
Empathy and Literature
Teaching
—
Teaching interests:
Interdisciplinary Cultural Learning
Transatlantic Perspectives
Digital Social Reading
Selected Publications
—
"El desdoblamiento de los autores masculinos y femeninos del Siglo de Oro." Entremundos, Student Journal of Luso and Hispanic Languages and Cultures (2017).