Luis F. Gómez Lomelí
---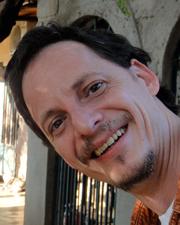 Ph.D. Student
Contemporary Latin America
Chancellor Fellow
College of Liberal Arts & Sciences, Spanish & Portuguese
Contact Info
Wescoe Hall 2035
Lawrence
Lawrence, KS
---
Biography
—
Luis Felipe studied Physics Engineering, has a M.S. in Ecology, and a Ph.D. in Philosophy of Science. In 2001, he received the Fine Arts Institute Short Fiction Award and since 2012, he belongs to the Sistema Nacional de Creadores de Arte in Mexico.
Research
—
Research interests:
Ecocriticism
History & Philosophy of Science
Latin American Literature
Fiction
Ecology
Teaching
—
Teaching interests:
Adaptive Technology
Individualized Instruction
Collaborative Learning
Selected Publications
—
Selected Publications
Fiction Books: 
Okigbo vs. las transnacionales y otras historias de protesta, La Pereza, 2015 (novel). Indio borrado, Tusquets, 2014 (novel). El alivio de los ahogados, Cuadrivio, 2014 (short stories). Cuaderno de flores, Tusquets, 2007 (novel). Ella sigue de viaje, Tusquets, 2005 (short stories). Todos santos de California, Tusquets, 2002 y 2014 (short stories).
Editor:
Asesinos, músicos y otros personajes para recorrer México, Secretaría de Cultura de Colima, 2015 (anthology). Solo cuento vol. 3, UNAM, 2011 (anthology). La tierra pródiga, INBA-FIL, 2011 (catalog).
Non Fiction:
Relaciones naturaleza y sociedad, ITESM, 2013. El ambientalismo, Nostra, 2009.
Chapters:
"Narratives of Complexity", in: Nodos, in press. "Naturaleza: coerción vs. consenso. Apuntes para una ecología política", in: Ciencia, tecnología y sociedad en México, Miguel Ángel Porrúa, 2008. 
"Relaciones ciencia y sociedad: los ecologistas y los bárbaros", in El Pensamiento científico en la sociedad actual, Ministerio de Educación y Ciencia, 2006. 
"El cernícalo de la CONASUPO y la imagen de la naturaleza en nuestros días", in El hacha puesta en la raíz: ensayistas mexicanos para el siglo XXI, Fondo Editorial Tierra Adentro, 2006.
Articles:
"Water deficit accelerates determinate developmental program of the primary root and does not affect lateral root initiation in a Sonoran Desert cactus (Pachycereus pringlei, Cactaceae)", American Journal of Botany 90 (6): 823-831. 2003.