Lara Arias Lopez
---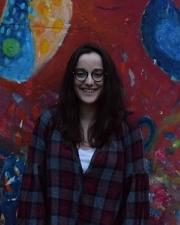 M.A. Student
GRASP Secretary
College of Liberal Arts & Sciences, Spanish & Portuguese
Biography
—
My name is Lara Arias. I am an M.A. student in the Department of Spanish & Portuguese. I graduated in English Language and Literature from the University of Santiago de Compostela in 2019 and in Audiovisual Translation from the University of Vigo in 2021 (a Master's degree). 
From my English Language and Literature degree, the topics I like the most are both Postcolonial literature (postcolonial Irish poetry and the concepts of patronage, resistance and hegemony) and North American literature (specially the works of Zora Neale Hurston, Flannery O'Connor and Sandra Cisneros). 
In the field of Audiovisual Translation, I am extremely interested on dubbing (both from English to Spanish and vice versa) and audiovisual accessibility for people with some kind of disability.