Ignacio Carvajal-Regidor
---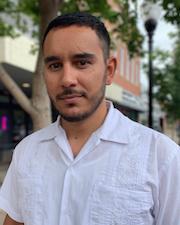 Contact Info
University of Kansas
1445 Jayhawk Boulevard
Lawrence, Kansas 66045
---
Biography
—
Ignacio Carvajal specializes in interdisciplinary research on Mesoamerican Literatures, Languages, and Cultures and pedagogical approaches to Indigenous Languages instruction. He focuses on Mayan Languages from Guatemala, particularly K'iche'.
His interests include Indigenous responses to colonialism, particularly how early-modern notions of territory relate to political organization, authority, and religion. Drawing from Literary Studies, Ethnohistory, Indigenous Studies, and other disciplines, he analyzes indigenous language documents, doctrinal materials, religious chronicles, and other sources to better understand colonialism and coloniality, along with its contemporary remnants.
He is also interested in pedagogical approaches and the creation of open access materials for the study of Indigenous languages. He is a member of a team of collaborators working on Chqeta'maj le qach'ab'al K'iche' (Let's learn K'iche'!), an open resource, digital repository of language lessons, which are also the base for his K'iche' class at the University of Kansas's Center for Latin American and Caribbean Studies.
Ignacio reads and writes poetry. His work has appeared in journals such as Acentos Review, Rio Grande Review, Coal City Review, and in the anthologies The Wandering Song: Central American Writing in the United States and Primera Página: Poetry from the Latino Heartland. He is a member of the Latino Writers Collective of Kansas City, the Taller Literario Don Chico in Costa Rica, and the board of directors of Borderlands: Texas Poetry Review, in Austin.
He has a Ph.D. in Iberian and Latin American Languages and Cultures, with a portfolio in Native American and Indigenous Studies, from the University of Texas at Austin. He also obtained a B.A. in Spanish and Latin American Studies with highest distinction from the University of Kansas and a A.A. in Liberal Arts, with honors, from Johnson County Community College.
Teaching
—
Mesoamerican and Latin American Literatures and Cultures
Indigenous Languages (especially K'iche')
Central America
Diaspora
And Latino/a/x Literature
Post and decolonial theories
Poetry
Research Interests
Indigenous Languages
Literatures
And Cultures
Colonialism/Coloniality
Less-commonly-taught languages
Indigenous Studies
Religion and Evangelization
Translation