Fernando N. Santos
---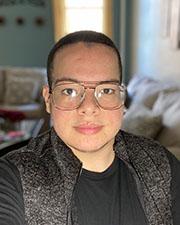 College of Liberal Arts & Sciences, Spanish & Portuguese
Contact Info
Wescoe Hall
Lawrence
Lawrence, KS
---
Biography
—
Fernando N. Santos is an M.A. student in the Department of Spanish & Portuguese who originates from the Dominican Republic. He initiated his undergraduate studies as a Media Arts and Spanish major, honors program student at the former College of New Rochelle in New Rochelle, New York (2016-2019). During his time at the College of New Rochelle, Santos was awarded the Russel & Deborah Taylor Foundation Scholarship, which funded his study abroad studies in Cuba and Spain. Additionally, Santos was a recipient of the John N. Colaneri Scholarship and Westchester Consortium for International Studies grant that funded his Summer semester abroad at "Instituto Hemingway" that included a Web Design/Videography internship at MINIMOL in Bilbao, Spain. His Summer abroad allowed him to embark journeys in different countries in Europe: including France, England, Portugal, and Italy. Santos presented his investigation on "The Future of Tomorrowland" at the annual College of New Rochelle's: Honors Conference Day (2019). His research thesis focused on demonstrating that even though Disney has attempted to introduce diversity into their works, it is evident that the media giant is still influenced by classical standards that have been brought into 21st-century pop culture. He graduated Summa Cum Laude with a B.A. and department honors in Spanish and a Media Studies minor from Mercy College in Dobbs Ferry, New York (2019-2020). Santos formed part of the Mercy College Global Honors Program and was recently endorsed in the International Foreign Language Honor Society (Phi Sigma Iota). Santos is interested in Latin American literature, women in politics, Afro-Hispanic Literature, linguistics, teaching Spanish, Spanish culture & civilization, Mexican Cinema and Identity, Photography Video Art in Latin America, and Dominican Culture & Literature.
Research
—
Research interests:
Afro American Cultures in Latin America
Magical Realism
The history of Spanish Language
Migration and Exile in Contemporary Spanish America
Mestizaje and Inter Ethnic Relations in Latin American Societies
Teaching
—
Teaching interests:
Caribbean Literature
Women's Poetic Voices
Collective Memory and Art in South America
La Generación Del 27
Mexican Women Writers of the 20th Century
Selected Publications
—
Santos, Fernando N. "The Fascination of Arduous Work" On My Mind (2016): 96.
Awards & Honors
—
Russel & Deborah Taylor Foundation Scholarship (2018 & 2019)
John N. Colaneri Scholarship (2019)
Grants & Other Funded Activity
—
Westchester Consortium for International Studies Grant (2019)
Memberships
—
Former member of the College of New Rochelle's Honors Program
Former member of Mercy College's Global Honors Program
Member of the International Foreign Language Honor Society (Phi Sigma Iota)
Graduated Summa Cum Laude with departmental honors in Spanish from Mercy College