Ángel María Rañales Pérez
---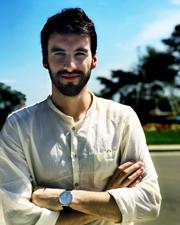 Ph.D. Student
Medieval Iberia
University Graduate Studies Fellow
College of Liberal Arts & Sciences, Spanish & Portuguese
Biography
—
Ángel María Rañales Pérez (Mugardos, A Coruña) is an ABD student in the Spanish and Portuguese Department. His research interests include medieval and early-modern Iberian literature and culture, with a particular attention to fifteenth-century Castilian chivalry and the court of Isabel of Castile. Ángel collaborates with La corónica Commons. Medieval Iberian Languages, Literatures & Cultures as assistant editor and with Digitus Indie Publisher as editorial board member.
Research
—
Dissertation Title: Chivalric Legitimacy: Iberian Romances and Queenship under Isabel of Castile
Research interests:
Late Medieval Culture
Manuscript and Print Culture
Chivalric Literature and Discourse
Translation Studies
Neo-medievalism
Knighthood
Burgos
el Camino de Santiago
Teaching
—
Teaching interests:
Communicative Language Teaching
Backwards Design
Scaffolding
Active Learning
Instructional Design
Digital Learning
Inclusive Classroom
Safe Zone Training
Flexible Teaching Training
Selected Publications
—
Digital Humanities Course Project, "Picturing Hispanismo: History, Voices and Texts", Spanish and Portuguese Department, University of Kansas.
"Medieval Iberian Crusade Fiction and the Mediterranean World by David Wacks." Review. La corónica: A Journal of Medieval Hispanic Languages, Literatures and Cultures. Forthcoming. Refereed Journal.
"Medievalism, Peregrination and Tourism: The Twenty-First Century Case of El Passo Honroso in Hospital de Órbigo, León". International Journal of Iberian Studies, vol. 34, no. 2, 2021, pp. 1-16. Refereed Journal.
"'Su querer es obrar': cultura impresa salmantina y visualidad de santidad en Los libros de la madre Teresa de Iesus". Romance Notes, vol 61, no. 1, 2021, pp. 147-160. Refereed Journal.
Contrapuntos VIII: Patiens, editor. Digitus Indie Publishers, 2021.
"Una discusión sobre el método de interpretación histórica de Quentin Skinner". La razón histórica​, no. 44, September-December 2019, pp. 1-7.
Group Online Exhibition, Books of Hours: The Art of Devotion. Kenneth Spencer Research Library, University of Kansas, Lawrence (Catalogue).
Selected Presentations
—
"Visual Materiality under Isabel and Fernando: Chronicle Writing and Political Sovereignty in Fifteenth-Century Castilian Brotherhoods." 9th International Conference of the Medieval Chronicle Society, Adam Mickiewicz University (Poland), Virtual, July, 2021.
"'Yo so mujer et huerfana no me entiendo en cavalleria': Reading Iberian Queenship in Late-Medieval Romances". Kentucky Foreign Language Conference, University of Kentucky, Virtual, April, 2021.
"The Future of Ph.D. Programs in the Humanities: Reflections from the Ph.D. program in Spanish", Department of Spanish and Portuguese, University of Kansas, February, 2021.
Virtual Round-Table Discussion, III Congreso Internacional "O camiño do Medievalista: e fazian fondamentos", University Santiago de Compostela (Spain), September, 2020.
"Neo Medieval Tourism: The Twenty-First Century-Case of El Passo Honroso of Suero de Quiñones in Hospital del Órbigo, León". Kentucky Foreign Language Conference, University of Kentucky, Lexington, April, 2019.
"Painting cofrades in Late Medieval Burgos: Widening Chivalric Representations through Castilian Brotherhoods". Multidisciplinary Graduate Student Conference, Newberry Library, Center for Renaissance Studies, Chicago, January, 2018.       
"Knights, Jousts and Visual Power. Fostering a New Readership in La historia de los nobles cavalleros Oliveros de Castilla y Artus dalgarbe". Medieval Association of the Midwest Conference, Lawrence, October, 2017.
Awards & Honors
—
2021    Summer Research Scholarship, Graduate Studies
2021    Carlin GTA Award, Graduate Studies
2020    GTA Flex and Online Teaching Program Award, Center for Teaching Excellence
2019    Roberta Johnson Award for Academic Performance, Spanish and Portuguese
2019    Nomination for Graduate Student Distinguished Service Award
2019    L.R. Fox Graduate Scholarship Fund
2018    Graduate Research Consultant Award, Center for Undergraduate Research
2018    Medieval and Early Modern Studies Certificate, School of Languages, Literatures & Cultures
2018    Newberry Renaissance Consortium Grant, Hall Center for the Humanities
2017    Kate Stephens Fellowship, Research Travel Grant
2017    Graduate University Fellowship, Graduate Studies
2016    Tinker Foundation Research Grant, Center for Latin American and Caribbean Studies